Guest Parking
Blank Space (small)
(text and background only visible when logged in)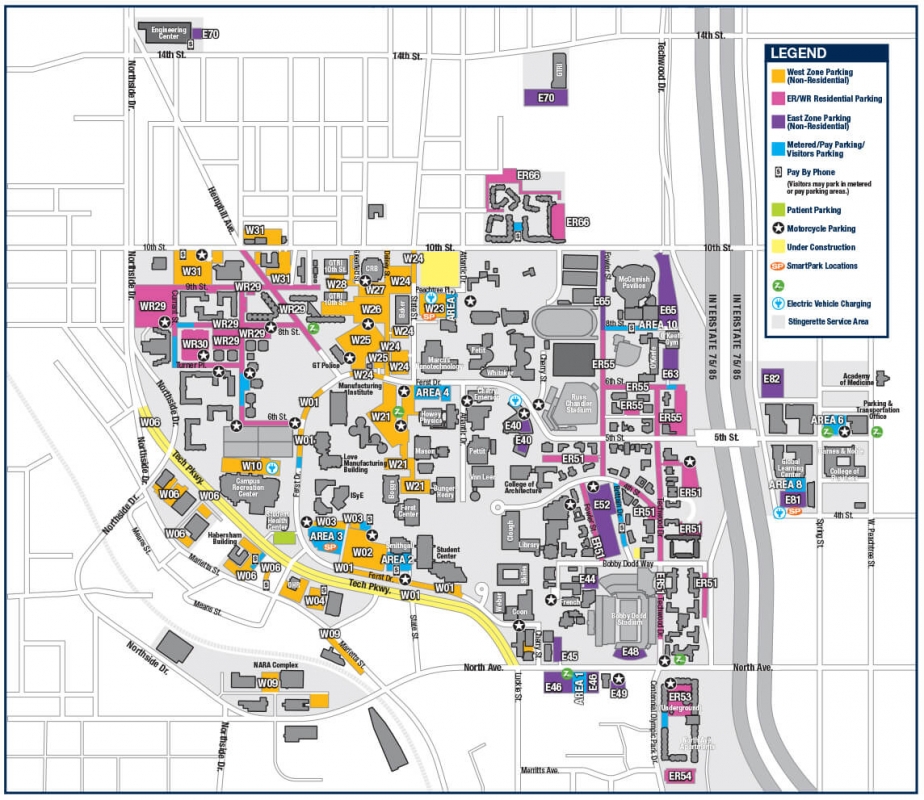 Planners can obtain vouchers/validate codes for the following visitor lots via Parking & Transportation Services:
Visitor Area 1
E46/Burge/McAfee/North Avenue Visitor Lot
Visitor Area 2
Student Center Visitor Lot
Visitor Area 3
Lot across from CRC/Health Center
Visitor Area 5
W23 Deck Visitor Lot
Visitor Area 8 
Georgia Tech Hotel and Conference Center/Global Learning Center Lot 
Blank Space (small)
(text and background only visible when logged in)
Visitor Parking Vouchers
Parking vouchers for the lots listed above can be personalized to fit your specific time requirements and preferred parking location (depending upon availability). Areas 1, 3, 5, and 8 require paper vouchers and can be reserved via the link below. For Area 2 (Student Center Lot), contact Michelle Williams, who will provide a validation code for your guests' use. 
When issuing vouchers to guests, please remember to communicate the following:
Upon entering the visitor lot, guests will press a button that issues a white ticket.
Guests should leave the white ticket from the machine in their vehicle. A fee of $20 will be issued for any lost tickets. 
During your visit with each guest, please provide him or her with the blue parking voucher issued from Parking & Transportation Services, as it will be needed to exit the lot. 
Upon leaving, guests will insert their white ticket into the machine. When the machine asks for payment, guests will insert their blue ticket.
Validation vouchers are only valid for a single entry and exit.
Validation vouchers are non-refundable.
Parking Voucher Requests
Game Day Event Parking
On game day, all of the parking rules change.
Many of the parking lots on campus convert to Game Day Parking Permits to make way for buses, RVs, and large tailgating setups. Be sure you have secured parking areas for your guests that are valid on game day and provide plenty of space options.
Event planners may also want to provide new directions to the designated lot to help their guests avoid Techwood Drive (it's closed on game days) and North Avenue (highly congested on game days).