This block is broken or missing. You may be missing content or you might need to enable the original module.
The College of Design Celebration Party was held on Thursday, August 25 outside the East Architecture Building. The event celebrated the debut of the college's new name. Read more from the College of Design's director of communications, Ann Hoevel. 
We planned a College of Design Celebration party, which was an official debut of our college's new name and an appreciation of the effort made by Georgia Tech leadership, our faculty, staff, alumni and students to put the new name in place. We envision a bright and creative future now that we're the College of Design, and we thought the first week of classes was a great opportunity to have a party and say thanks to everyone who made that future possible.
We planned this event with a committee of seven staff member from communications, development, Dean's Office admin, building management, business planning, and human resources. We each brought ideas to the table, and ended up with a great representation of interests from across the college.
The planning process was close to three months. We started by brainstorming and then began editing our ideas once we got cost information – you should have seen what we WANTED to put together! To check out the interactive game we included with the invitation, visit here. The game was a big hit! 
We used A Time to Dine to cater "New Southern" cuisine and WM Events to help us decorate our courtyard area. In fact, the big letters spelling DESIGN in Georgia Tech's exact old gold that WM Events Principal and Founder William Fogler provided were the talk of the party.
Our biggest challenge was the mitigating factor of the weather. It was an outdoor party between 5:30 and 7:30 p.m. at the end of August. We knew it was going to either be sweltering or raining, so comfort of our guests was an ever-present worry. We had to figure out how to tell people to dress (we settled on "garden party attire") and decided our give away would be a pop-up fan that people used throughout the evening.
This block is broken or missing. You may be missing content or you might need to enable the original module.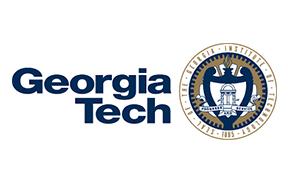 Blank Space (small)
(text and background only visible when logged in)